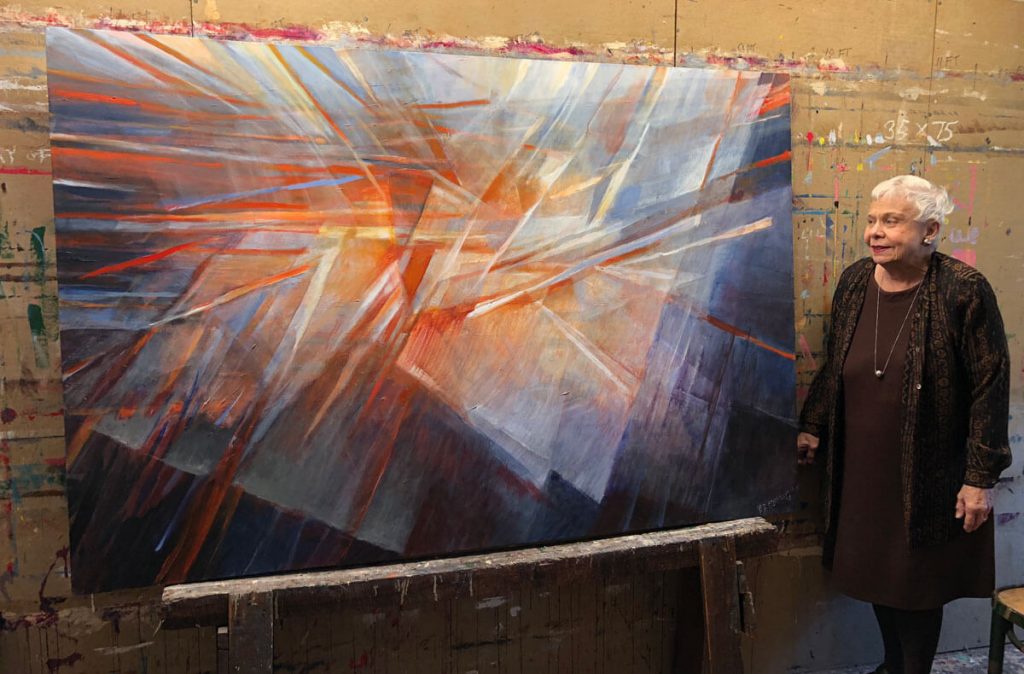 Rochelle Blumenfeld is an award winning artist from Pittsburgh, PA.
Her paintings are represented in many private and public collections including the Museum of Art, Carnegie Institute, Pittsburgh, Pennsylvania.
She has had numerous exhibitions throughout the United States and Europe. Her work has been included in the Bicentennial Exhibit of "American Painters in Paris" in Paris, France, Copley Society, Boston, Dunferline Fife, Scotland, and the Westmoreland Museum of Art, Greensburg, Pennsylvania.
---
---
NOTE FROM THE ARTIST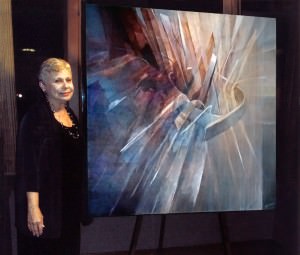 I have been exhibiting my paintings throughout the United States and Europe for some time. They are included in many collections (See Shows/Awards). I like a large canvas because it gives me room to reach and to stretch. I like the act, the physicality of painting and I try to reflect that in my work. The shapes I create bend and twist, push and pull as people do. The pillars in "Bridges" support each other at the paintings focal point. My paintings are my own worlds, ones that I can control. Although my works are sometime non-representational, they like the world around us are composed of motion, light, and space. "Begin Again" is a good example of a painting in constant motion.
Another path that I take in my work reflects the shapes of the natural world. Many of my paintings are inspired by flowers, moonlight, sun, storms, mountains, etc. These paintings create another solid and sedentary; they move when the light changes and plays on their surfaces. "Skylights" is a darker painting with light, perhaps lightning coming through the clouds and lighting up a portion of the mountains, while leaving the rest in shadow.
I use a strong diagonal thrust to add power to the motion. I work by applying many layers of paint to the canvas, building a complex surface of planes and color. Visually I like the sense of depth that I can get from this technique and thematically it reflects the way I see the world. Often my paintings are diptychs or triptychs or more. It helps me tell my story and makes shipping easier.
My inspiration often comes from dance, music, and events happening around us. In 2000, I was inspired by seeing Alvin Ailey's Ballet "Revelations", and I created a series of Dance Paintings – "Celebration of Spirit". Most of the originals have been sold, and some are available in different sizes as giclee on canvas.
"Weathering The Storm" paintings are inspired by the music from the show "Lion", written and performed by Benjamin Scheuer. His song "Weather The Storm" talks about the emotions of going through something harrowing in his life. It inspires you to have the courage to go through difficult things in life – "To weather the storm". I play this album every time I paint.
In 2011 after a conversation with my grandchildren, I was inspired to use my art to recreate memories of growing up in the Hill District of Pittsburgh during the Great Depression and World War II. Hill District Paintings portray a very mixed neighborhood, as it existed in the 1930's – 1940's, crowded and loud – with Jews, Italians, Irish, Hungarians, Gypsies, Afro-Americans, and other ethnic groups, all struggling to make a living.
Some of the paintings are re-created on canvas, using a a very fine method, called Giclee. Each painting is custom made as orders are received. It arrives ready to hang.
Thank you for your interest.